Posts for tag: orthodontic treatment
By Aesthetic Dental
October 28, 2017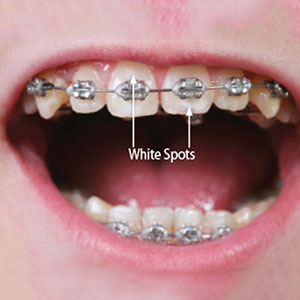 After months of wearing braces it's time for the big reveal: your new and improved smile! Your once crooked teeth are now straight and uniform.
But a look in the mirror at your straighter teeth might still reveal something out of place: small chalky-white spots dotting the enamel. These are most likely white spot lesions (WSLs), points on the enamel that have incurred mineral loss. It happens because mouth acid shielded by your braces contacted the teeth at those points for too long.
Most mouth acid is the waste product of bacteria that thrive in dental plaque, a thin film of food particles that can build up on tooth surfaces. High levels of acid are a definite sign that plaque hasn't been removed effectively through brushing and flossing.
But normal hygiene can be difficult while wearing braces: it's not easy to maneuver around brackets and wires to reach every area of tooth surface. Specialized tooth brushes can help, as well as floss threaders that help maneuver floss more easily through the wires. A water irrigator that uses pulsating water to remove plaque between teeth is another option.
However, if in spite of stepped-up hygiene efforts WSLs still develop, we can treat them when we've removed your braces. One way is to help re-mineralize the affected tooth surfaces through over-the-counter or prescription fluoride pastes or gels. It's also possible re-mineralization will occur naturally without external help.
While your teeth are sound, their appearance might be diminished by WSLs. We can improve this by injecting a liquid tooth-colored resin below the enamel surface. After hardening with a curing light, the spot will appear less opaque and more like a normal translucent tooth surface. In extreme cases we may need to consider porcelain veneers to cosmetically improve the tooth appearance.
In the meantime while wearing braces, practice thorough dental hygiene and keep up your regular cleaning visits with your general dentist. If you do notice any unusual white spots around your braces, be sure to see your dentist or orthodontist as soon as possible.
If you would like more information on dental care during orthodontic treatment, please contact us or schedule an appointment for a consultation. You can also learn more about this topic by reading the Dear Doctor magazine article "White Spots on Teeth during Orthodontic Treatment."
By Aesthetic Dental
October 13, 2017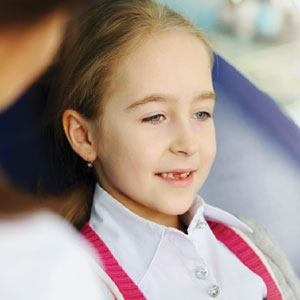 Have you heard about interceptive orthodontics? This type of early intervention could benefit perhaps 10â??20% of children who need orthodontic treatment, making a positive impact on tooth and jaw development, facial symmetry, and overall self esteem. In case you're not familiar with it, here are the answers to some common questions about interceptive orthodontic treatment.
Q: What's the difference between interceptive orthodontics and regular orthodontics?
A: Standard orthodontic treatment typically involves moving teeth into better positions (usually with braces or aligners), and can be done at any age. Interceptive orthodontics uses a variety of techniques to influence the growth and development of teeth and jaws, with the aim of improving their function and appearance. Because it works with the body's natural growth processes, interceptive treatment is most effective before the onset of puberty (around age 10-14), when growth begins to stop. It is generally not appropriate for adults.
Q: What are the advantages of early treatment with interceptive orthodontics?
A: When it's done at the right time, interceptive treatment offers results that would be difficult or impossible to achieve at an older age without using more complex or invasive methods — for example, tooth extraction or jaw surgery. That's why the American Association of Orthodontists, among other professional organizations, recommends that all kids have their first orthodontic screening at age 7.
Q: What are some common issues that can be treated with interceptive orthodontics?
A: One is crowding, where there is not enough room in the jaw to accommodate all the permanent teeth with proper spacing in between. A palatal expander can be used to create more room in the jaw and avoid the need for tooth extraction. Another is a situation where the top and bottom jaws don't develop at the same rate, resulting in a serious malocclusion (bad bite). A number of special appliances may be used to promote or restrict jaw growth, which can help resolve these problems.
Q: How long does interceptive orthodontic treatment take?
A: Depending on what's needed, a child might wear a device like a palatal expander or another type of appliance for 6-12 months, followed by a retainer for a period of time. Or, a space maintainer may be left in place for a period of months to hold a place for a permanent tooth to erupt (emerge from the gums). Interceptive treatment ends when a child's jaw stops growing.
Q: Will braces still be needed after interceptive treatment?
A: Often, but not always, the answer is yes. However, interceptive treatment may shorten the period of time where braces need to be worn, and can help prevent many problems later on.
If you have additional questions about interceptive orthodontics, please contact our office or schedule a consultation. You can learn more in the Dear Doctor magazine article "Early Orthodontic Evaluation."